You can use this search to see if I have received and replied to your QSL Card! Just search for your call and the log entries will appear. You can check out the legend below to interpret the current status. My log is current as of 4-30-2014.
Minimum length is 3
Legend
| | |
| --- | --- |
| QSL Card Received Status | Y = Your QSL Card has been received. Thanks! |
| | V = I received your QSL Card and the ARRL has Verified it for Credit! Thanks! |
| | R = I have the Card marked as Requested so I probably sent you one so please send me one back! 🙂 |
| | Blank = Your Card has not been received. If you feel this is incorrect, please contact me. |
| | |
| QSL Card Sent Status | Y = I have sent you a QSL Card either direct or via the ARRL Bureau. |
| | R = I have the QSO marked to send you a card but sometimes the software marked this automaticaly. |
| | N = You did not send me a QSL or request one. |
| | Blank = A card has not been sent for this QSO. |
| | |
| No Results | No Results = You are not in my log at this time. |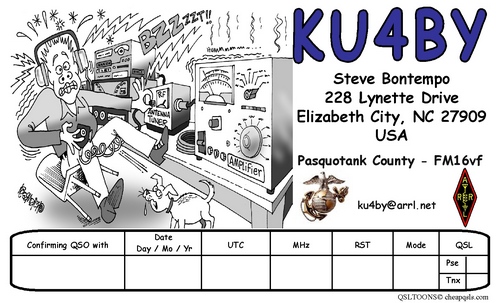 I am a QSL Card collector(hoarder) so a qsl card in the mail is always appreciated. I return 100%! I especially like receiving DX cards. I also upload 100% to Logbook of the World and EQSL although I do prefer LOTW. If you don't have an LOTW account, please sign up for one! In the mean time, just send me a QSL Card in the mail.
I don't require an SASE or IRCs or even Green Stamps to send one back!
This page was last updated on 4/30/2014. Log current as of 4/30/14.